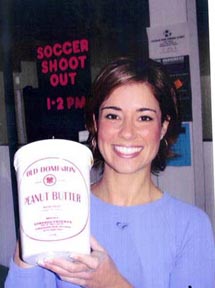 Following her appearance on Survivor, Kim's life was a whirlwind of activity as she was sought out for interviews, commercials, public autograph signings and attendance at charity fund-raisers. Shown above is a commercial she did for Edwards Freeman, a candy store in Conshohocken. While her official CBS bio cited that as her hometown, in fact she lived there only briefly and was either in Africa or traveling around the country for most of that time.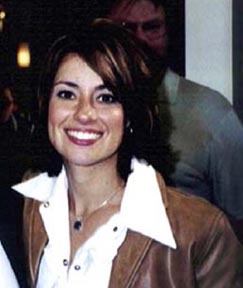 Today at age 31, Kim lives in an apartment in Los Angeles with her adoreable cats, Squirt and Shaba. Her career goals are relatively unchanged by her fame: "just to find something that I love to do". Except for the public spotlight and fan adoration which continues even after three more episodes of the TV game have been filmed, Kim is following the career for which she trained in college. She believes that Survivor has made her a stronger person, but admits some of the hardships she experienced during the game still affect her. When asked if she sometimes wishes that someone would just turn off the celebrity spotlight, she replied wistfully "Sometimes!"
In the photo above taken in December, 2002, Kim was attending a fund-raising brunch in Los Angeles.
UPDATE - In February 2003, Kim moved in to an apartment with Kelly Goldsmith, also from Survivor Africa. Kelly introduced her to Shawna Mitchell of Survivor Amazon (Kelly attended Duke University with Shawna's twin sister, Kerrin). During the summer of 2003, Kim and Shawna were training together to compete in a triathlon. During the airing of Survivor Pearl Islands, Nicole Delma asked me to put her in touch with Kim, Kelly and Shawna and the girls all met in October, 2003.